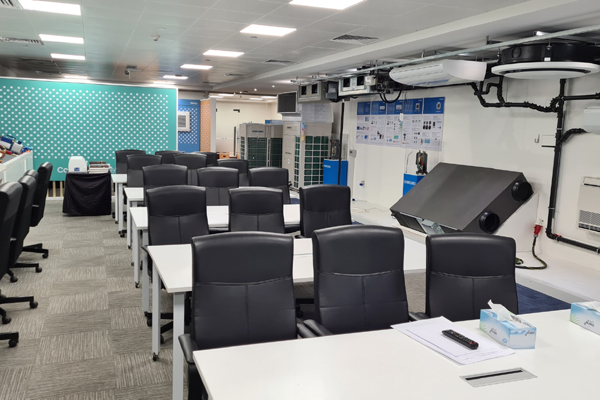 Samsung launches new AC training academy in UAE
DUBAI, June 27, 2022
Samsung Electronics has announced the launch of the first-of-its-kind UAE training academy in its regional headquarters in Dubai Media City to enable customers to witness the company's innovative air solutions across the showroom and an exclusive WindFree Experience Booth.
The showroom will boast the new generation of DVM, including the DVM S2, which is compatible with the WindFree wall-mounted models, 1Way cassette, 4Way cassette, as well as the 360- cassette, said a statement from Samsung Electronics.
The academy will also conduct training sessions by AC professionals at Samsung Gulf Electronics to highlight the comprehensive AC line-up and innovative technologies, functionality, installation, and control systems available at Samsung AC reference sites, it stated.
Ayman Al Hamalawi, Head of System AC division, Samsung Gulf Electronics, said: "Opening such a unique training academy is of utmost importance for us at Samsung. We always strive to bring the latest technologies closer to consumer expectations– and that means broadening our outreach to forego new heights in AC solutions and allow customers to feel more confident and future-ready when it comes to cutting-edge technologies."
"We are very happy to be hosting this Academy at our headquarters which brings the consumer closer to home, starting with the AC," stated Al Hamalawi.
The AC UAE Training Academy will allow customers to see the low airspeed and cold draft-free operation of the unit for themselves, which results from thousands of micro holes in the unit's panel and leaving them with a pleasant experience.
Moreover, customers will be briefed on how to control the AC unit via the SmartThings app, where they will be able to try it through their mobiles, he added.-TradeArabia News Service