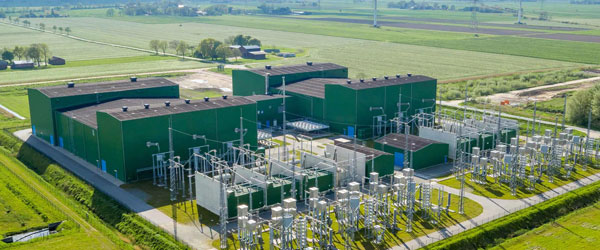 The HVDC Light transmission system
Hitachi Energy backs huge step in Germany's energy transition
DUBAI, August 10, 2022
Hitachi Energy, a global technology leader, has won a major order from Germany's TenneT and TransnetBW to supply a transmission solution for the SuedLink DC4 high-voltage direct current (HVDC) interconnection.
The HVDC Light transmission system will transfer vast amounts of renewable energy for up to 5 million households and help Germany achieve its 2045 carbon neutrality goal.
SuedLink DC4, between the north and south of the country, is one of the most important power grid and energy transition projects in Germany. It will play a crucial role in Germany's energy transition, enabling a reduction in the use of fossil fuels.
Emission free electricity
Using Hitachi Energy's HVDC Light technology, SuedLink DC4 will transfer up to 2,000 megawatts of emission-free electricity. The link will efficiently transmit electricity for 550 kilometres underground, at ±525 kilovolts, sending wind power from the north to the industrial south, or alternatively solar power from the south to the north when needed.
"We are proud to play a crucial role in this very important investment in Germany's transition to renewable energy and carbon neutrality," said Niklas Persson, Managing Director of Hitachi Energy's Grid Integration business. "HVDC Light is the enabling technology for large-scale transfers of renewable energy, both onshore and offshore."
"SuedLink will form the backbone of the energy transition in Germany. With the award of the DC4 high-voltage direct current system to Hitachi Energy, we are now moving towards the realisation of this important power link," says Tim Meyerjürgens, Chief Operations Officer of TenneT.
Three cable section stations
Hitachi Energy will supply an HVDC Light converter station at each end of SuedLink DC4 to convert AC power from the transmitting grid to DC for delivery through the link, and back to AC for transfer to the receiving grid. The contract includes three cable section stations to speed up fault detection in the link.
As part of its long-term commitment to Germany's energy transition, Hitachi Energy has recently won or completed orders for solutions that integrate large-scale renewables. These include the converter stations for the NordLink HVDC interconnector between Germany and Norway, the converter stations for the connection of the 900-megawatt DolWin offshore wind farm in the German North Sea, the Kriegers Flak Combined Grid Solution which connects the German power grids with two offshore wind farms in the Baltic Sea and Denmark, and power quality solutions to enable more renewable energy to flow from north to south Germany.-- TradeArabia News Service