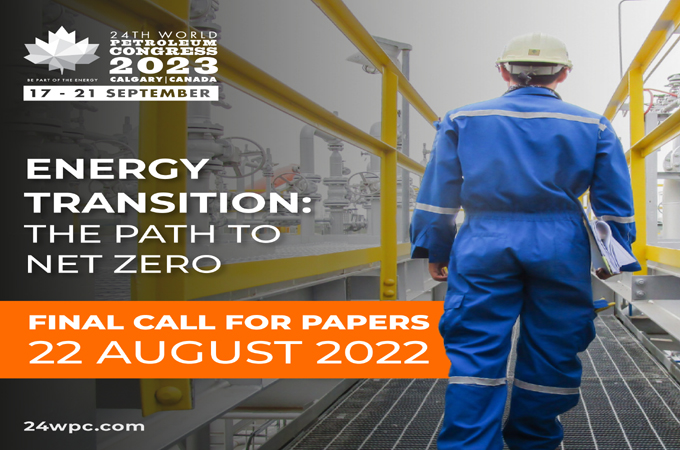 Key energy summit extends call for papers
CALGARY, August 11, 2022
In response to the high interest from authors, the Organising Committee for Canada (OCAN) for the 24th World Petroleum Congress (WPC) has made a final extension for its call for papers.
Authors can now submit their abstracts for one of 17 technical topics, including innovations in upstream, midstream, downstream, petrochemicals, natural gas, clean technology, and the future of the energy landscape, by August 22, 2022. The papers will explore innovative solutions connected in the energy transition dialogue.
"The 24th Congress will be one of the year's premier global energy conferences. With a continued strong response from authors worldwide, we have made the decision to do a final extension for those still working on submissions. We look forward to having all abstracts submitted by the August 22 to contribute to a high-quality conference agenda that will drive solutions on the industry's role to achieve a net zero future," says Denis Painchaud, President, and CEO of OCAN.
The next WPC takes place from September 17-21, 2023, in Calgary, Alberta, Canada, under the theme of 'Energy Transition: The Path to Net Zero'.
Held every three years in select international cities, the WPC is the world's premier oil, gas and energy forum that attracts the attendance of heads of state, energy leaders and technical experts who discuss the challenges and opportunities of managing the world's petroleum and energy resources for the benefit of all.
It will feature a multistream conference, including strategic and technical sessions, programming for young professionals, and special entertainment events such as Canada Night, Women's Networking Breakfast, Ministerial Reception, Excellence Awards and much more.
The WPC is expected to draw over 5,000 delegates from more than 100 countries, 50 ministerial delegations, 700 expert speakers, and 800 media. Over 15,000 visitors are expected to participate in the Congress, which will also feature the World Petroleum Exhibition comprising of over 200 international exhibitors.
The abstracts for paper and poster presentations can be submitted at
www.24wpc.com
.
-OGN