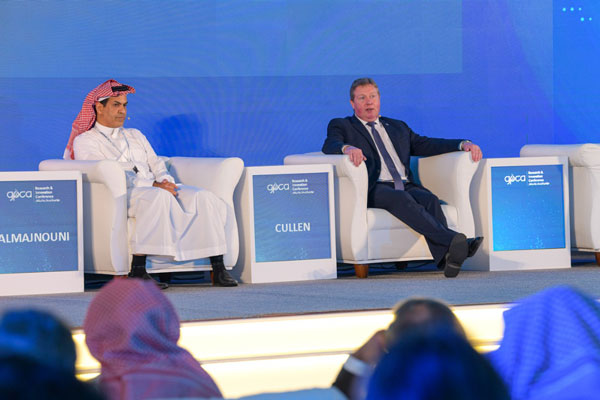 A session in progress
GPCA opens 7th Research and Innovation Conference
DUBAI, September 26, 2022
The 7th edition of the Gulf Petrochemicals and Chemicals Association (GPCA) Research and Innovation Conference has opened its doors to decision makers from private and public firms, value chain stakeholders, industry leaders and academia.
GPCA's only event of its kind dedicated to chemical research and innovation opened at the Address Sky View Hotel, Dubai, UAE under the theme 'Catalysing A Sustainable Future with R&I'.
Delivering the welcome remarks in the morning today, Dr Bob Maughon, EVP, Sustainability, Technology & Innovation and Chief Technology and Sustainability Officer, Sabic, and Chairman, R&I Committee, GPCA, called on the industry to invest in research and innovation for a more sustainable future.
Sustainable solutions
"You won't deliver sustainable solutions without what our industry produces. (…) Whatever solutions we deliver will have an impact on the UN Sustainable Development Goals," he said.
Dr Maughon added that for the industry to achieve its goals by 2030, collaboration is going to be key. He concluded by calling upon industry players to work more closely with other stakeholders, their peers, and colleagues, to build cross-value chain relationships, and foster collaboration between areas that have not traditionally been an area of focus.
Next on stage was Abdulmohsen Almajnouni, Advisor to the President, King Abdulaziz City for Science and Technology (KACST) and Member, Core Development Team, RDIA, who delivered a plenary address on the role of regulators in enabling a globally competitive chemical industry. Almajnouni presented on the recently formulated Research, Development and Innovation Authority (RDIA) and its roadmap to achieve the national research, development and innovation (RDI) targets set by Saudi Arabia's Crown Prince Mohammed bin Salman.
One of them is growing the kingdom's R&I expenditure from 0.6% currently to 2.5% by 2040. To achieve this, Almajnouni said, the kingdom needs to boost the availability of skilled people across the RDI value chain; it must create cohesive funding programs with world-class budgets; and break down pre-existing regulatory barriers in Saudi Arabia to promote and induce public and private innovation.
University-industry collaboration
In the second plenary address of the day, Dr Kevin Cullen, VP of Innovation, King Abdullah University of Science and Technology (KAUST), shared learnings from industry and academia collaboration. He urged better university-industry collaboration and engaging in more strategic partnerships. This, he said is the key to creating new jobs, developing new products and services, growing the R&I sector's contribution to GDP, and driving up the revenue and profit of companies in the region.
Dr Abdulwahab Al-Sadoun, Secretary General, GPCA, commented: "I was delighted to welcome the R&I community to Dubai this morning for another edition of the GPCA Research and Innovation Conference after a three-year pause following the outbreak of the coronavirus (Covid-19) pandemic. The insights, case studies and lessons learned shared by the speakers and guests made this edition worthwhile attending for senior industry leaders from both the region and the world. I look forward to welcoming the GCC's knowledgeable community of chemical researchers, academia, industry experts and students for Day 2 tomorrow to discuss the challenges and opportunities facing the industry and how to position it for a more profitable growth through R&I."
Innovation competition
The conference hosted the 2nd GPCA Innovation Competition which recognised three undergraduate and three postgraduate university students from the Arabian Gulf in first, second and third place for their innovative research project.
The top five shortlisted students were provided with one-of-a-kind opportunity to present their innovative ideas in front of delegates comprising global and regional industry leaders, the jury members and academia. Now in its 2nd edition, the GPCA Innovation Competition was launched to bridge the gap between industry and academia in line with GPCA's efforts to foster an innovation culture in the Arabian Gulf.-- TradeArabia News Service