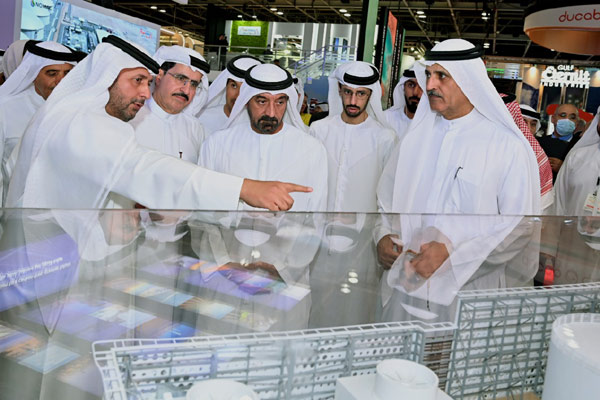 Empower unveils Za'abeel district cooling plant model at Wetex
DUBAI, September 28, 2022
Emirates Central Cooling Systems Corporation (Empower) has unveiled its Za'abeel district cooling plant model at the 24th Water, Energy, Technology and Environment Exhibition (Wetex 2022) in Dubai.
Operating with a production capacity of 50,000 refrigeration tonnes (RT), the new Za'abeel plant is scheduled to be connected to Empower's Dubai International Financial Center plant, bringing the total production capacity to 112,000 RT.
The new plant will serve the existing and upcoming significant real estate projects, most notably the buildings of the Dubai International Financial Center, the Dubai World Trade Center, the Emirates Towers, the Wasl1 mega project, and the One Za'abeel tower, said senior company officials on the sidelines of Wetex 2022, which kicked off yesterday (September 27) at the Dubai International Convention and Exhibition Center.
During his tour of the exhibition halls, Sheikh Ahmed bin Saeed Al Maktoum, Chairman of the Dubai Supreme Council of Energy (DSCE), unveiled the new Za'abeel district cooling plant model at Empower stand.
Za'abeel plant has captured the attention of the participants and visitors of Wetex 2022, remarked Empower CEO Ahmad bin Shafar, during his briefing on the plant model and its operation to Sheikh Ahmed and Dubai Electricity and Water Authority (Dewa) Managing Director and CEO Saeed Mohammed Al Tayer.
"It belongs to a new generation of district cooling plants that leverage artificial intelligence solutions, and comprises advanced Thermal Energy Storage (TES) systems to enhance energy efficiency during peak hours, he stated.
"The plant is also equipped with cutting-edge technologies that contribute to reducing consumption of potable water and preserving natural resources by adopting Treated Sewage Effluent (TSE) water in its operations. In terms of the architectural structure, it has a unique and iconic design that meets the highest international standards in construction and design of buildings, as well as the standards of sustainable green buildings, and modern urban developments in Dubai," explained bin Shafar.
He pointed out that Empower's participation and strategic sponsorship of the Wetex stems from its global position as one of the leading companies striving for the development and dissemination of the latest technological means in the field of district cooling globally.
"In addition to the presentation of the Za'abeel plant operation model, it also shed light on our latest achievements in the adoption of environmental initiatives and rationalization of energy consumption, as well as the exchange of ideas and best practices aimed at achieving best energy efficiency," he added.
-TradeArabia News Service