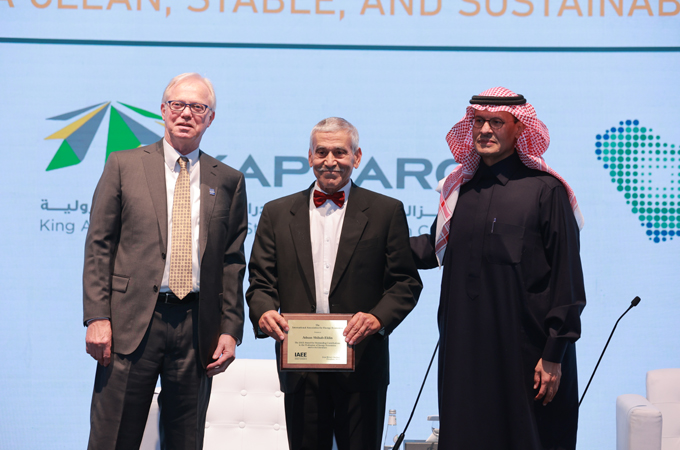 Saudi minister of energy inaugurates IAEE conference
RIYADH, February 5, 2023
Prince Abdulaziz bin Salman Al Saud, Minister of Energy of Saudi Arabia, and Chairman of the Board of Trustees of King Abdullah Petroleum Studies and Research Center (KAPSARC), inaugurated the 44th International Association for Energy Economics (IAEE) Conference, in Riyadh, and also participated in a fireside chat with Daniel Yergin, Vice-Chairman of S&P Global.
Hosted in the MENA region for the first time, the six-day event, which brings together the world's energy elite, is being held under the theme "Pathways to a Clean, Stable, and Sustainable Energy Future."
The conference takes on further significance as it takes place between last year's COP27 in Sharm El-Sheikh, Egypt, and COP28 in the UAE later this year, and facilitates opportunities for the major energy-producing countries to be part of the decarbonisation solution within the global energy transition.
In his opening remarks, Prince Abdulaziz said: "Today, KAPSARC is one of the most empowered think tanks in the world. It has the facilities, the accommodations, the endowments, and the talent to advance the energy industry. I am certain that it will be the incubator of more influential events like the 44th IAEE Conference, which has received record attendance."
Fahad Alajlan, President of KAPSARC, said: "Accelerating the energy transition is becoming a greater imperative for achieving net zero ambitions. The 44th IAEE Conference presents the international energy community with a unique opportunity to come together and discuss how we can realize our mutual aspirations."
Prince Abdulaziz also presented three IAEE Distinction Awards as part of the opening ceremony. Dr. Shihab-Eldin, Former Director General of the Kuwait Foundation for the Advancement of Sciences, received a special lifetime achievement award, marking his career working on energy economics
Robert McNally, Non-Resident Fellow at the Center on Global Energy Policy, was presented with the Best Energy Book award for "Crude Volatility: The History and the Future of Boom-Bust Oil Prices".
John Defterios received an award for journalism, in recognition of more than three decades of reporting and analysis covering the oil and gas industry.-TradeArabia News Service