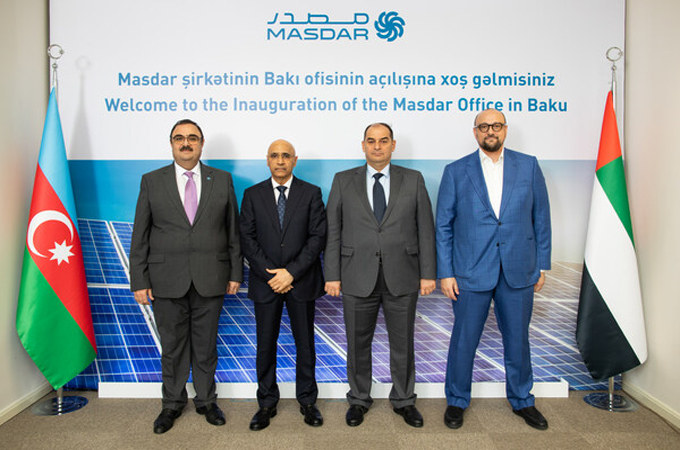 Masdar opens office in Azerbaijan to support nation's energy objectives
ABU DHABI, February 6, 2023
Masdar has pledged to strengthen its support for Azerbaijan's renewable energy development with the opening of an office in Baku, the capital city.
Masdar will work closely with the government and other stakeholders in Azerbaijan to accelerate the growth of its renewable energy sector, as the country continues to take bold steps to meet clean energy targets and transition to a low-carbon future.
The inauguration event for the office, located in Port Baku Tower, was attended by Mohammed Murad Al Blooshi, UAE Ambassador to the Republic of Azerbaijan, and Javid Abdullayev, Director of Azerbaijan Renewable Energy Agency under the Ministry of Energy, along with a delegation from Masdar, led by its Chief Executive Officer, Mohamed Jameel Al Ramahi.
Azerbaijan plans to increase its installed power capacity to 30 percent from renewable sources by 2030, to diversify its economy and reduce greenhouse gas emissions. The Government has targeted developing renewable energy sources as a strategic priority for the country's development, and is looking to establish Azerbaijan as a green energy producer and exporter.
Ilham Aliyev, President of the Republic of Azerbaijan, delivered a keynote address at Abu Dhabi Sustainability Week 2023, where he reiterated the country's clean energy objectives and highlighted how its partnership with Masdar will help in achieving them.
At ADSW, Masdar signed joint development agreements for onshore wind and solar projects, and integrated offshore wind and green hydrogen projects, with a total combined capacity of 4 gigawatts (GW). The projects are part of a larger agreement with Azerbaijan's Ministry of Energy to develop a renewable energy program on a bilateral basis, with a total capacity of 10 GW across multiple technologies, one of the largest such signings in Azerbaijan's history.
Masdar is also developing the 230-megawatt Garadagh Solar PV Plant in Azerbaijan. The plant will help to generate half a billion kilowatt-hours of electricity annually, enough to meet the needs of more than 110,000 homes, and will reduce emissions by more than 200,000 tonnes a year, while also creating valuable jobs. Masdar announced financial close on the plant in August 2022.
Sultan Ahmed Al Jaber, UAE Minister of Industry and Advanced Technology, COP28 President-Designate, and Chairman of Masdar, said, "The UAE and Azerbaijan both recognise the importance of investing in renewable energy to advance economic diversification, stability, and growth. Masdar's increasing scope of work in Azerbaijan, evidenced by its new Baku office, demonstrates the UAE's commitment to supporting decarbonisation and sustainable development around the world."
Al Blooshi said, "The opening of Masdar's office in Azerbaijan is a testament to the shared ambition of the UAE and Azerbaijan toward renewables and sustainability. Our two nations are committed to working together to create a sustainable future, and the new office will play a critical role in supporting this important work."
Al Ramahi said, "The opening of our new office in Baku is a testament to Azerbaijan's increasing focus on renewable energy and Masdar's growing global portfolio, which we have pledged will reach 100 GW by 2030. We look forward to working with our partners in Azerbaijan to continue to deliver world-class projects in support of the country and its renewable energy goals."
Abdullayev said, "Developing our ample renewable energy potential is a strategic priority for Azerbaijan, and we believe that working with partners like Masdar will help us achieve our goals and create a brighter, more sustainable future for our people. The agreements we have signed with Masdar will play a critical role in our green growth journey and we look forward to further collaborations."-TradeArabia News Service