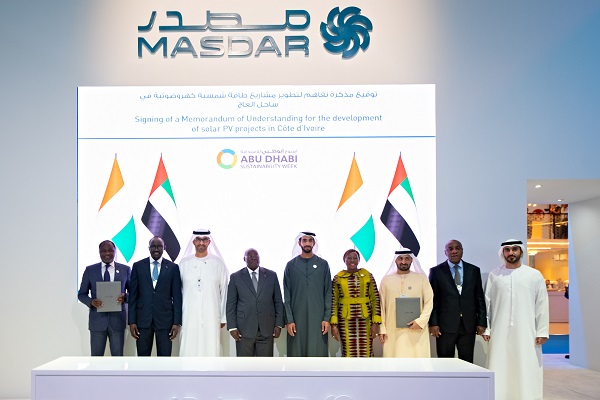 Masdar in deal to set up 70MW solar plant in Ivory Coast
ABU DHABI, March 11, 2023
UAE renewable energy company Masdar said it has signed an agreement with the Ministry of Mining, Petroleum and Energy for the Republic of Côte d'Ivoire to support the country's clean energy goals.
As per the agreement, Masdar and the Ivorian ministry will explore the joint development of solar photovoltaic plants in Côte d'Ivoire, starting with a first 50 to 70-megawatt (MW) plant.
This plant would support the Republic of Côte d'Ivoire's goal of 42 percent of its energy mix coming from renewable sources by 2030.
The agreement was signed by Mamadou Sangafowa Coulibaly, the Ivorian Minister of Mining, Petroleum and Energy, and Fawaz Al Muharrami, Executive Director of Clean Energy, Masdar in the presence of Ivorian Vice President Tiémoko Meyliet Koné as well as UAE Minister of State Sheikh Shakhboot bin Nahyan Al Nahyan and Minister of Industry and Advanced Technology, COP28 President-Designate and Chairman of Masdar Dr Sultan bin Ahmed Al Jaber.
Coulibaly said: "Côte d'Ivoire has committed under climate change agreements to reduce its greenhouse gas emissions by 32 percent and to increase the share of renewable energies in its energy mix to 45 percent by 2030. In accordance with its commitments, Côte d'Ivoire has drawn up a master plan for the development of its production facilities, which integrates solar, hydroelectricity and biomass."
"The framework agreement that we have just signed with Masdar, accompanied by a first project of 50 to 70 MW, will contribute, in addition to the other initiatives that the Ivorian government is undertaking, to achieving this ambitious objective," he stated.
CEO Mohamed Jameel Al Ramahi said: "As part of Masdar's new shareholding structure launched in December, we have a goal of delivering 100GW of clean energy around the world by 2030."
"With Africa's massive projected development and growth and low current clean energy penetration levels, we see enormous potential for the renewable energy sector across the continent. This agreement will support Côte d'Ivoire's clean energy goals and help to drive sustainable economic development for the nation," he added.
The agreements were signed under the umbrella of the Etihad 7 initiative, a UAE-led programme that aims to raise public- and private-sector funds to invest in the development of Africa's renewable energy sector, to achieve 20 gigawatts (GW) capacity to supply 100 million people across the continent with clean electricity by 2035.
With the Côte d'Ivoire signing, five Etihad 7 projects are now under agreement, with three others signed at ADSW 2023.
These include an agreement with Angola's Ministry of Energy and Water for the development of renewable energy projects with a total capacity of 2GW; an agreement with Uganda's Ministry of Energy and Mineral Development for greenfield renewable projects with a total installed capacity of 1GW; and a pact with Zambia's Ministry of Energy and national utility Zesco for the joint development of solar, wind, and hydroelectricity projects with a capacity of 2GW.-TradeArabia News Service