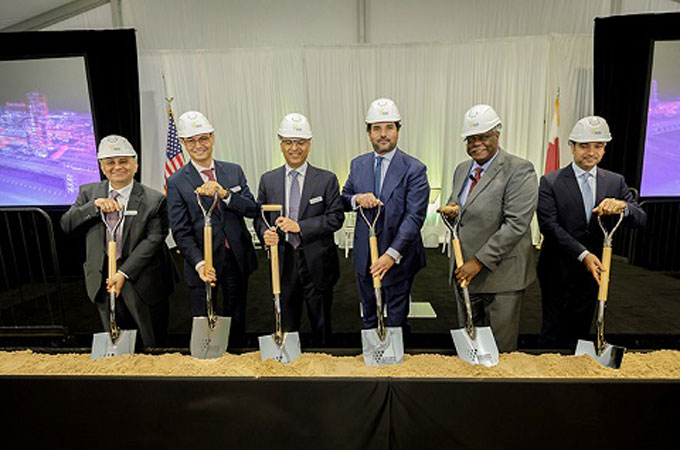 QatarEnergy kicks off $8.5bn polymers plant in US
DOHA , March 12, 2023
QatarEnergy and Chevron Phillips Chemical Company (CPChem) have broken ground on a $8.5 billion world-scale petrochemical facility - the Golden Triangle Polymers Plant - in Orange County in the US state of Texas,.

The landmark event was attended by senior QatarEnergy executives as well as Bruce Chinn, the President and CEO of Chevron Phillips Chemical, Mark Lashier, the President and CEO of Phillips 66, in addition to a number of local elected and appointed officials.

Saad Sherida Al Kaabi, the Minister of State for Energy Affairs and QatarEnergy President and CEO and Ahmad Saeed Al Amoodi, QatarEnergy's Executive Vice President (Surface Development and Sustainability) said: "For over two decades, we have worked hand in hand with Chevron Phillips Chemical to satisfy the growing demand for innovative petrochemical products, which not only constitute a significant portion of our daily lives, but also play a role in shaping how we live."
"In this partnership, we are also working together to enable balanced growth and to facilitate human development in a responsible and sustainable manner," he stated.
Highlighting the local impact of the new facility, Al Amoodi said: "The Orange community is a direct beneficiary of this strategic partnership. We are investing $8.5 billion to build this world-scale facility, which is QatarEnergy's second largest investment in the US after the more than $11 billion investment in the Golden Pass LNG production and export facility, which is currently under construction about 35 miles from here in Sabine Pass, Texas."
"This plant will also be, by far, the most significant economic investment in the Orange community in decades, creating jobs and supporting economic growth," he added.
Al Amoodi concluded his remarks by thanking the local community, CPChem, the local and federal bodies and agencies, and all the stakeholders in the city of Orange who have made this project a reality, and to all the contractors who will build the projects.

Located about 180km east of Houston, the plant will include an ethylene cracker unit with a capacity of 2.08 million tonnes per annum, making it the largest in the world, and two high-density polyethylene units with a combined capacity of 2 million tonnes per annum, also making them the largest derivatives units of their kind in the world.
The plant is expected to startup in 2026 and will be owned by Golden Triangle Polymers Company a joint venture in which QatarEnergy holds a 49% equity interest with 51% held by CPChem.-TradeArabia News Service