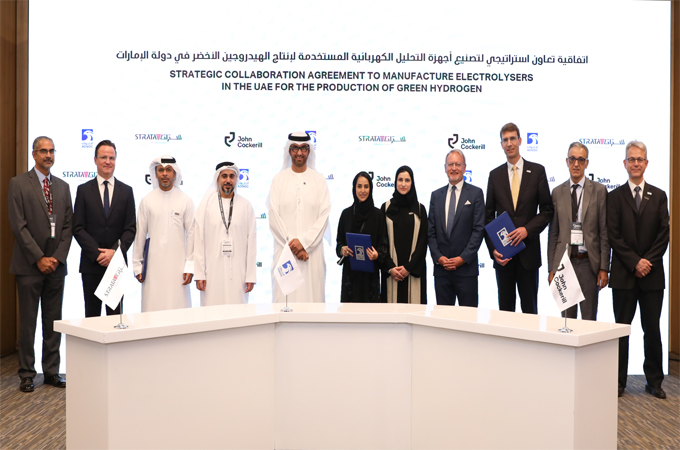 Agreement brings electrolysers to UAE for the first time
ABU DHABI, June 4, 2023
The Ministry of Industry and Advanced Technology (MoIAT) announced at the "Make it in the Emirates" Forum in Abu Dhabi that is has supported a strategic collaboration agreement between Adnoc, John Cockerill Hydrogen and Strata Manufacturing, aiming to manufacture electrolysers in the UAE for local use and for export.
Electrolysers produce green hydrogen, an energy source made from renewables that does not emit carbon dioxide at the point of use. The arrangements intended to be put in place as contemplated by the agreement enhances the development of the UAE's green hydrogen economy through the in-country manufacturing of electrolysers and supports the UAE's "Make it in the Emirates" initiative to promote local industry and create a favorable environment for investors.
The agreement was signed at a ceremony witnessed by Dr Sultan Ahmed Al Jaber, Minister of Industry and Advanced Technology and Managing Director and Group CEO of Adnoc, Sara Al Amiri, Minister of State for Public Education and Advanced Technology, Ahmed Jasim Al Zaabi, Chairman of Abu Dhabi Department of Economic Development (ADDED), Antoine Delcourt, Ambassador of Belgium in the UAE and Jean-Luc Maurange, Executive Member of the Board, John Cockerill Group.
It was signed by Hanan Balalaa, Senior Vice-President, New Energies and Carbon Capture, Utilisationand Storage, Adnoc, Ismail Ali Abdulla, Managing Director & CEO of Strata Manufacturing and Raphael Tilot, CEO of John Cockerill Hydrogen.
Omar Al Suwaidi, Undersecretary of the Ministry of Industry and Advanced Technology, said: "Accelerating the development of future industries is one of the main objectives of the National Strategy for Industry and Advanced Technology. Therefore, the ministry is committed to ensuring the national industrial sector benefits from innovative solutions and advanced technologies that support the expansion of future industries. Stimulating cooperation between leading national companies and international and local manufacturers is key to these efforts, which reinforces the industrial sector's contribution to decarbonisation in line with the UAE's net zero and COP28 targets. Led by Adnoc, this strategic cooperation agreement strengthens our industrial sector and provides the necessary capabilities for future industries to thrive. The agreement will be particularly beneficial to the field of hydrogen, which represents one of the most important future industries and underpins a greener economy."
Balalaa said: "We are very pleased to partner with John Cockerill Hydrogen and Strata Manufacturing in this landmark initiative that could enable electrolysers to be manufactured in the UAE for the first time. Hydrogen is a critical fuel in the energy transition and this agreement underscores how the energy sector can work with the industrial and hard-to-abate sectors to decarbonise at scale, drive low-carbon economic growth and enhance energy security.Adnoc will continue to advance lower-carbon solutions and decarbonization technologies to strengthen our position as a responsible energy provider and support the UAE Net Zero by 2050 Strategic Initiative."
Abdulla said: "We are excited to join forces with Adnoc and John Cockerill Hydrogen in this groundbreaking initiative. Strata's expertise in advanced manufacturing will play a crucial role in establishing the UAE as a global hydrogen leader. This collaboration aligns with our strategic vision of driving innovation and economic growth in the UAE."
Tilot said: "As a leader in large scale green hydrogen production and distribution solutions, we are delighted to collaborate with Adnoc and Strata Manufacturing to explore opportunities to develop electrolyser manufacturing capabilities in the UAE. This partnership will strengthen the UAE's position in the global hydrogen market and will enable the country to achieve its ambitious decarbonisation objectives."-TradeArabia News Service